Hi! If you're reading this, you've gotten word we have this Developer Blog. A number of thoughts might be running through your mind as you hover over the "next" button on your feed reader or "close" on this browser tab:
"MapQuest has a blog?"
"MapQuest has a Developer Blog?"
"MapQuest has Developers?"
and if you're a mash-up developer: "MapQuest has APIs?"
Yeah, yeah, we know. Over the past few years we know it seemed that on the outside MapQuest seemed a bit behind the times, a Web 1.0 giant sitting on the bench of a Web 2.0 Internet. However, inside MapQuest there have been people hard at work trying to change our culture and perspective into something that can thrive in a "Web 2.0" world. We've been changing teams, processes, some developers switched to Macs -- serious, real change.
While we've been quiet, we've also been building things. More accurately, we've been rebuilding things. Starting with the 5.0 releases, we have rebuilt much of our geospatial web services platform from the ground up. Currently at version 5.2 and with 5.3 in beta, these releases contain lots of practical things, lots of cool things, lots of helpful things. Now we're making them free things.
Developer Choice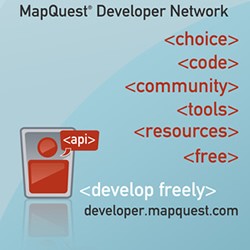 We're happy to finally introduce the MapQuest Platform: Free Edition. We've taken nearly all the features of our platform and made them freely available to developers. We believe that Free Edition provides developers a comprehensive toolset and flexible APIs so they can build well, whatever they want. Developers can choose the programming language of their choice and the features they need to build the applications they want, the way they want.
Here's some of the Free Edition features:
Six APIs

We're giving developers greater flexibility and choice by enabling them to develop in a variety of programming languages and environments, they can even mix and match:

Java
C++
.NET
JavaScript
AS3 (Adobe ActionScript 3: Flash, Flex, AIR)
Our newest API: FUJAX (Flash Under JavaScript and XML), which allows developers to write in JavaScript, yet leverage the power of Flash.
and of course LOLcode. Nope, sorry, still no LOLcode suport.

A Rich Mapping Interface for creating Rich Internet Applications with our JavaScript, AS3, or FUJAX APIs:

Aerial Imagery and Hybrid Views - Satellite imagery and aerial photography.
Smart Rollovers - Rollover windows that adapt their size and positioning on the map based on the content placed in the window.
Smooth Zoom - Animated transitions between zoom levels.
Globe View - A map of the world presented as an interactive globe.
"Flickable" Maps - Maps that continue to pan based on speed and friction settings.
Advanced Shape Overlays - Build apps that allow users to create and interact with a variety of overlays on maps.
Advanced Map Marker Features - With "declutter mode," automatically move collided markers (POIs) to alternate positions on the map with a customizable leader line pointing back to their original location.

Unlimited Maps - Worldwide: Standard or Tiled.
Unlimited Geocoding - Multi-line and Single-line Geocoding, Real-time Batch Geocoding, Reverse Geocoding, Postal Code and Town Geocoding.
Unlimited Routing - Point-to-Point, Multi-point or Optimized.
Simplified Data Management - MapQuest offers access to simple tools to upload and manage location information to help keep websites accurate and relevant.
You'll find more information on all of this on the MapQuest Developer Network, where you can also download the code and give the Free Edition a test drive. You can also find documentation, example applications and how-to articles to reference while checking out our APIs.
Thanks!