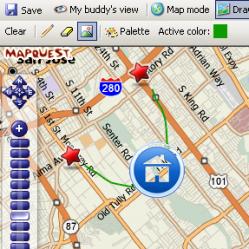 Developer David Bello has written a great plug-in for AIM called "Share-a-Map." That clever name may have something to do with why we're covering it here.
Right from the copy in the AIM Gallery:
Share-a-map is an AOL AIM plugin that let you share maps with a friend via AIM in an interactive way. This plugin can be extremely useful when you want to share a location, route or place with a friend or relative, plus other features like add images and hand drawing overlays, find an address or point, save your map, among others.
We've been playing with it here in the office and it is a really sweet way to do some map collaboration.
The Share-a-Map plug-in is Windows only and available in the AIM Plugin Gallery.