In recent weeks we've had a string of updates talking about new services and features we've been working on. Today we've got two new Web Services we're releasing into beta and a feature update for the Beta Directions Web Service.
Geocoding Web Service
We're jazzed to release the Geocoding Web Service into beta. You can now make a simple request containing an address and the service will return a latitude and longitude.
http://platform.beta.mapquest.com/geocode/v1/address
?location=lancaster%20pa
&key=YOUR_KEY_HERE

You can also make a request containing the Latitude and longitude and we'll tell you the address of that location.
http://platform.beta.mapquest.com/geocode/v1/reverse
?lat=40.0378
&lng=-76.305801
&key=YOUR_KEY_HERE

Static Map Web Service
While interactive and draggable maps are useful for many things, sometimes a good ol' single map image is what's needed for your application. While we've made these maps available for well over a decade, you can now build them using our new Static Map Web Service. This allows you to easily create, configure, and return a map image. this includes adding POI icons, traffic data, or shapes to you maps.
This also means you can easily embed a map into any web page without writing or embedding any code. Just insert the map like any other image.
http://platform.beta.mapquest.com/staticmap/v3/getmap
?type=map
&size=400,200
&zoom=7
&center=40.054600,-76.313100
&key=YOUR_KEY_HERE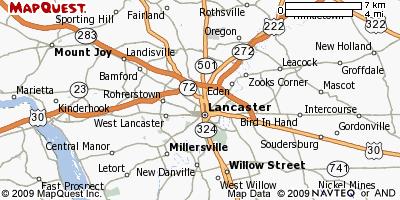 Directions Web Service
Powered by our new Static Map Web Service, you can now return a static map image for each maneuver of a route narrative. Like on MapQuest.com, this will allow you to show your users a map containing additional detail of the transition to their route.

More information is available on our Developer Network Beta page and included in the MapQuest Platform: Web Services Documentation.