Mid-March is almost upon us. For thousands, this time of year means one thing: time to go to Austin, TX for SXSW! MapQuest is no exception. In addition to helping attendees get around Austin and find venues for the Interactive, Film, and Music portions of the conference, we'll have a booth set-up for the Interactive Trade Show. Here, you'll have the opportunity to talk to MapQuest Developers about making your applications location enabled.
Now this last part is important if you're attending SXSW Interactive and love great food:
MapQuest can help you find great BBQ in Austin, but we'd thought we'd also take you to get great BBQ as well -- 23.58 miles outside Austin to Driftwood Texas to be exact.
On Sunday, March 14th, we'll be running buses to take about 150 of our fellow attendees to The Salt Lick for some of the best (in our opinion) BBQ in all of Texas (and quite possibly the world). We'll also be supplying the beer to wash down that NOM-tastic food. While it's worth the wait in line, we've got space reserved so we can get right to the eatin'. Oh, did we mention that we're picking up the tab for everyone?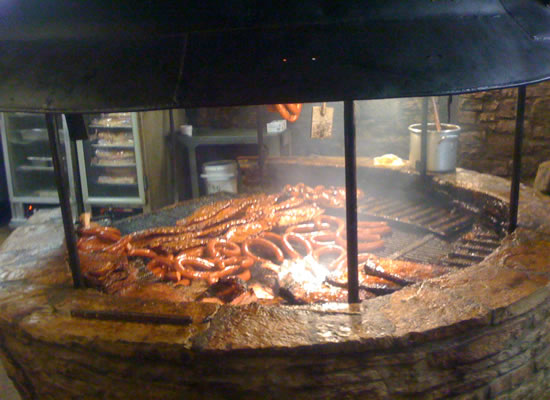 Pit of meat at The Salt Lick
Mouth's already watering thinking about it, right?
If you want in, here's what you need to know:
MapQuest BBQ Quest at South by Southwest
What?

The Salt Lick BBQ
Free beer on the bus and at The Salt Lick
Free bus ride from downtown Austin to The Salt Lick in Driftwood, TX (and back I suppose)

When? I'm hungry!

Sunday, March 14th. Meet at 5:30pm. Buses will have you back for evening events by around 8:30pm

Can I go?

You need to be over 21 years of age (bring your ID)
You need to have a 2010 SXSW Interactive, Gold or Platinum Badge
You need to love BBQ
You need to know all the words to "Wheels on the Bus" (Fine! That's optional)
Important: You need to be early. The event is first come, first serve and we're only feeding the folks on the bus. When the buses are full or it turns 6pm (which ever comes first), we're hitting the road. No riding on the roof either (we asked).

Where do I line up?

We will be waiting for you at the Hilton Austin (Right across the street from the Convention Center) located at 500 E. 4th St. Austin, TX
Simply look for the MapQuest Charter Buses.
We look forward to seeing old friends, making new ones, and eating until we collapse.
See you in Austin!