Another week, and another production launch to the MapQuest Web Services. This time around it is the new Traffic Service.
Since I have already blogged about its features and functions when we pushed it to beta, I'll just provide a brief summary and encourage you, dear reader, to click through to my original post.
Get Markets List

Determine the markets where we have traffic coverage with a simple call. There are no parameters (except your appkey). It simply returns a list of market names, their center-points, an icon to use, and suggested bounding boxes for zooming in. This function is handy for showing the traffic markets on zoomed-out maps, and creating the "zoom to market" links in the market infoWindows.

Get Incidents in an Area

Request all incidents within a given bounding box and filter based on which incident types you want returned ("Construction" for example). Each incident provides type and location details, an appropriate icon to use, a short and full description, and timing/duration info.

Get Traffic Flow Overlay

Retrieve a transparent raster image of color-coded traffic flow that overlays on top of the road network, providing colour-coded visualization of current traffic speed conditions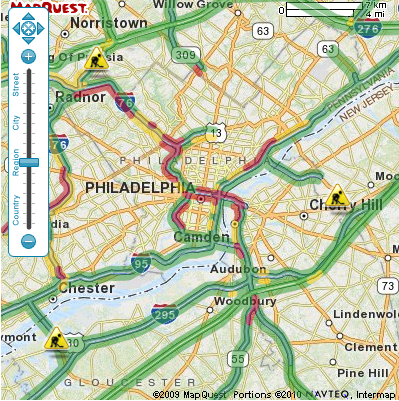 Showing both incidents and flow on a map.
The service is all part of the new platform services, so it allows you to GET with Key-value pairs, GET or POST with JSON or XML, and receive your response in a different format to your request (eg: send in XML, get it returned as JSON).
The Developer Network also contains more information about the MapQuest Traffic Service or take advantage of our Traffic Service Forum.
If you haven't tried any of our new services and SDKs yet, you can sign up for a free appKey here.
Stay tuned...more to follow soon.