I am extremely happy to announce that we have launched the version 6.0 of the MapQuest Actionscript / Flex SDK for mapping, geocoding, directions, geo search, and traffic! Before I go any further, here are the important links: You can
download the AS3 / Flex SDK here
. You can
view the Samples here
. You can
view the documentation here
. You can
access the AS3 / Flex section of the Developer Network here
. And if you don't have one already, you can
get an appKey here
. During the course of the project we have touched pretty much every line of code to overhaul, upgrade, enhance, optimize and improve the SDK. We also re-wrote several main sections of the SDK from the ground up to use the new
MapQuest Web Services
. What follows is by no means a complete list of the things we have done to the SDK, but should give a nice overview of the main enhancements.
FlashBuilder 4 (beta) Support

The SDK works with both FlexBuilder 3 and FlashBuilder 4. The SDK also works with both Flash Player 9 and Flash Player 10.

Single .swc, Smaller Compiled App

We've consolidated all the different files into one single .swc. We also removed dependencies from the core TileMap object wherever possible, typically resulting in a smaller final SWF size .

Object model Overhaul, Removed Getter/Setters

Most explicit object.setProperty(value) functions have been removed from the SDK, in favor of a more AS3-friendly object.property = value. Returning these values has also been changed to object.property. Not only does this make the SDk more intuitive, it also removed quite a lot of weight!

Shapes And Drawing Engine Overhaul

The core shape objects have been overhauled to be simpler, and use a new internal drawing engine. As a result we have been able to add a couple of other new cool features. One example is that you can now add child overlays to a main overlay, which then act as clipping masks to punch holes in your polygons, rectangles, ellipses, and circles. So now you can do donut polygons! Yay!

You can use any shape overlay to cut holes.

Directions, Search, and Geocoding completely re-written

This is a complete overhaul and upgrade to the object model and how you use it - it is now MUCH MUCH simpler and saner - and smaller! Create the appropriate service object, pass in your parameters, provide your map object, and watch the results appear on the map automagically. Provide an event handler to receive the results. Done!. If you are a power-user type, you can dive under the covers to provide all the different options available from the underlying services.

Draggable Routes!

If you want your users to be able to drag the route, then just add dir.ribbonIsDraggable = true; on the directions object before asking for the route. At the end of each drag, your directions success event handler is called again so you can handle the updated narrative. That's it. Done!

New Map Style with a Draggable Route added and in mid-drag.

New Controls

There's a new carousel control that looks like the MapQuest.com Biz Locator control. this tool lets you easily add ShapeCollections to the map, with a pre-built UI for users to turn these collections off and on, on top of the map. There's also an overview map control you can place in the corner of the main map, as well as other controls to enable mouse scroll wheel zooming, and keyboard map interaction.

DefaultTileMap Component

The new DefaultTileMap object and drag and drop component sets up the map UI to work just like MapQuest.com, making it even quicker to set up all the controls and mouse interactions.

New Declutter Modes

Decluttering was also overhauled, providing new ways to declutter the map. My personal favourite is the new ForceDeclutter which animates the POIs moving away from each other until they are decluttered. It makes me giggle every time.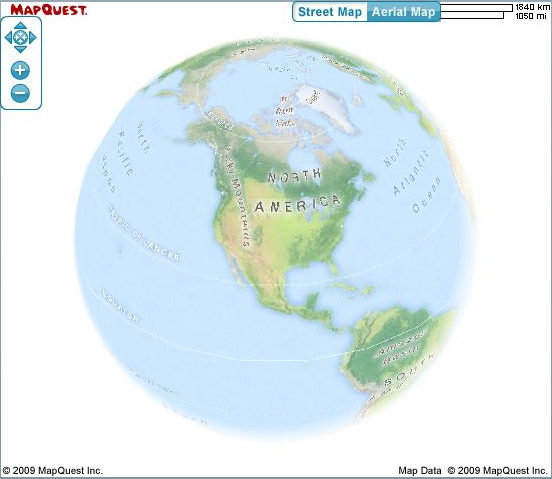 The new map style with Globe View turned on in the AS3 SDK.
There are so many things we have done to the SDK, I am sure I've missed a few big items. I could mention the Globe View changes (you can now set the globe size, and freeze either axis, or make it auto-rotate to be vertical again when someone stops spinning it); I could also mention the spiffy new documentation that includes sections on how to make your own infowindows, POIs, and custom controls; But, unfortunately, I am out of time for now, as I must go prepare for SXSW later this week. If you are going to the conference, please do stop by the booth (#401) and say "Hi" to us, check out the new
Platform
and, if there is room left,
come to our BBQ party!