New OpenStreetMap based sites localized by country
We've got localization going on! Four new Open Beta domains rolled out today: -
http://open.mapquest.de
- defaults to Germany as the map, and German as the language -
http://open.mapquest.fr
- centers on France, starts in French -
http://open.mapquest.it
- shows Italy in Italian -
http://open.mapquest.es
- tell you what, I'll leave you to guess what this one does You can read more about the new sites over on the
Consumer Blog
. You can of course change your language setting on these sites, regardless of which one you are on (as described by Deb in
this post
) and pan the map anywhere in the world. And, it's powered by Nominatim, so you can search for anything, anywhere from any of the sites.
New features
Draggable Routes
This release also adds draggable routes to all the Open sites, including the beta
http://open.mapquest.co.uk
site. If you hover over the route ribbon after getting directions, you can drag the ribbon to go through different roads than we originally calculated. While you are dragging, you get a tooltip that tells you the time and distance of the new route. Once you let go, your route is updated. If you click on the little red dot in your route (it represents where you dragged your route ribbon to, and we call it a "via") an infowindow pops up that allows you to convert it to a stop along your route.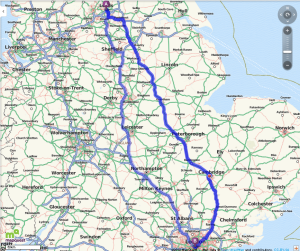 More Sharing Options
The "Send To" section has been beefed up as we figure out how to get it all working with OSM data. I personally find these features very useful to have, and I hope others do too:
Send to Facebook - You can share your maps & directions on Facebook. If you haven't already used the awesome ability to save collections of places, you should check out My Maps
Send to GPS - You can upload your maps or directions as waypoints and tracks directly to your GPS!
Send to Email - Enter multiple email addresses and send your maps and directions to people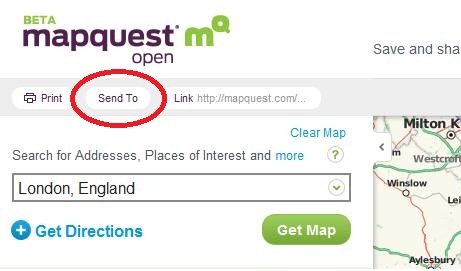 So how's THIS for a crazy scenario?
Run a route you intend to go mapping down.
Use the dragging feature to arrange it down the roads you want to go.
Save it to your My Maps section.
Use the Link function to get a link to the map and add to your mapping party wiki page.
Then send to email, to let other members of the mapping party know which area you intend to tackle.
Send to GPS to upload the trail to your GPS device that you go mapping with.
After the mapping party is done, the data is uploaded, and the map is updated (remember they update every 15 minutes), come back and share the new map out to your friends on Facebook to show what you did!
In fact, since I intend to run the first Lancaster, PA Mapping Party on October 14th, I think I will do EXACTLY that.
Improved Search
I'd also like to point out that the search results also show a vast improvement over our original launch. A combination of our growing understanding of how to handle
Nominatim
results in our interface, combined with tweaks and enhancements by
Twain
have introduced the following noticeable effects:
You should no long get ANY " unable to locate" results that you can't click on to see on the map (if you see any, PLEASE send us feedback at open@mapquest.com and list the search phrase you used)
House numbers now show up if they are in the OSM data.
Improved understanding of names vs. places when searching (for example, "Pubs in London" was showing The London Pub in Somerset as our first result - Now it actually shows a pub in London!)
For the developers & cartographers following along at home, we've also updated the map style again. The awesome folks at
Cartifact
have provided us with a version of the high quality geoTiffs we use as background images on the furthest-out zoom levels of MapQuest.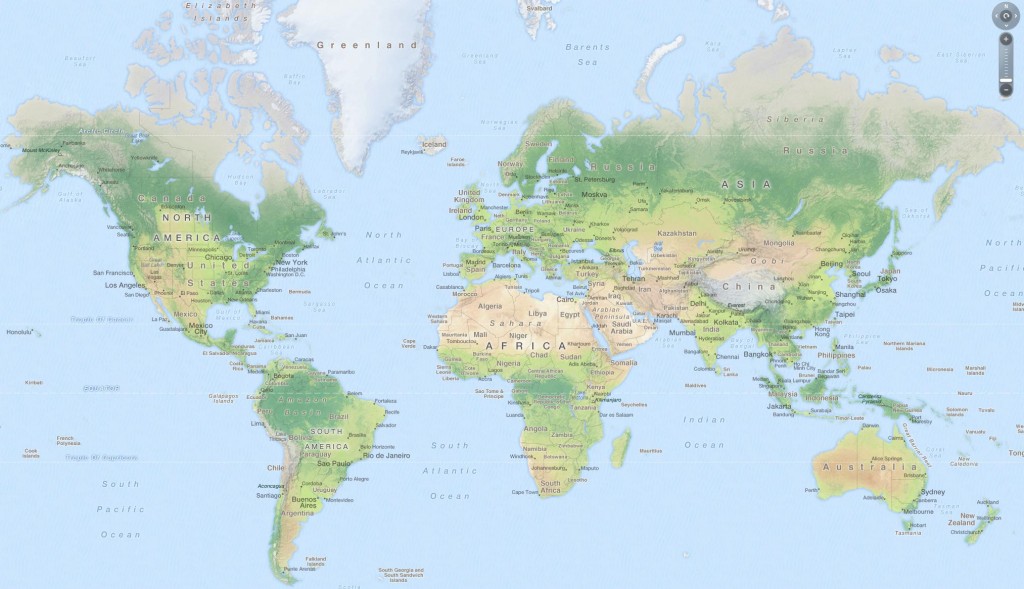 I don't feel a screenshot really does them justice, so I'd recommend checking them out
live on the site
(notice the cunning use of the Link feature to put you at a further-out zoom level than default). The style has been updated on
GitHub
and the geoTiffs are available under the MIT license. The style was also upgraded to native
Mapnik 2
also known as Version 0.8.0, so you'll want the latest source. Major thanks to
Artem
and
Gravitystorm
for the heavy lifting in getting this done. Along the way we also found time to fix the scalebar so that it actually works now and shows both miles and KM; and, thanks to feedback from the OSM talk lists, we made it change size based on the latitude center of the map as you pan around (most noticeable, obviously, at further-out zoom levels as you pan north and south). As I said, these sites ARE Beta, so if you notice any weirdness (or have any other feedback) please let us know. There are now three ways to provide us feedback. - Click on the Feedback link, top right above the map - Email open@mapquest.com - Post on our forums on the
Developer Network
This is a rather nice segue into telling you about the new pages on the developer network...
New OpenStreetMap section on the MapQuest Developer Network
If you go to the
MapQuest Developer Network homepage
, you'll notice that there is an entirely new section called OpenStreetMap Initiatives. I've kept the details up-to-date on the OSM wiki regarding what we have available, but we thought it would be good to gather everything in one place on our Developer Network too. You will find a place for our map tiles that you are free to use, the Mapnik Style file we use, and the RESTful Directions Service that uses OSM data, and you'll also find the new forums where you can post to discuss. Our goal is, obviously, to fill this section up with many more useful tools, so stay tuned in this area.
New MapQuest Team Member!
Last, but by no means least, I'm also very excited to announce that Hurricane Coast has joined our Open Initiative team! She will be focused on the
US improvement fund
we announced at SOTM 2010. Before joining us, Hurricane has been very active in the OpenStreetMap community. She has organized and held mapping parties in over 9 states, 6 countries, and 2 continents that I have been able to count so far, been part of the organizing committee for the State Of The Map Conference for the last 3 years, and is part of the OSM Communications Working Group, as well as having previously worked as a Community Ambassador in the United States. I expect it won't be long before she has banned me from blogging for crimes against literature and grammar, and started providing you with coherent and cogent posts herself! As always, stay tuned, there's more to follow soon.