Thanks all for helping us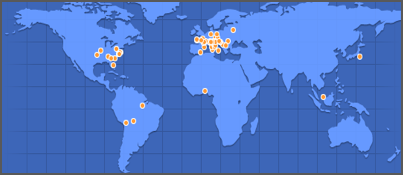 with our open.mapquest.* sites
embedded map icon survey
! We had 74 respondents from all over the world who completed the survey! Here's the breakdown by country: Argentina (1), Austria (1), Belgium (3), Brazil (1), Canada (1), Chile (1), Denmark (2), Finland (1), France (2), Germany (15), Hungary (1), Indonesia (1), Ireland (3), Italy (2), Japan (1), Netherlands (1), Norway (2), Poland (1), Spain (1), Switzerland (2), UK (12), US (16), and Unknown (3). We had some clear "winners" for the icon selections and had some very good additional requests as well! Here's the textual breakdown in a pretty chart format showing the top selections. Some of the additional map icon requests were quite interesting! Take a gander at a portion of the additional icon requests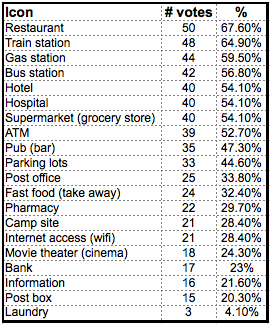 that we collected:
benches, better pedestrian streets, prominent footways, bicycle parking, bike shop, charity shops, coffee shops, confectionery, diving, drinking water (drinking fountain), fire hydrant, nodes of the cycle network, places of worship, police station, power generators, public washrooms, recreational/hiking/biking paths and trails, schools, social media, stadium, toilets, tourist attractions, towers, tram stop, bus stop, UFO sighting, wind turbines
As we expand our existing map styles to include the new icons, I'm sure we'll be able to make updates to bring in a lot of the requests listed above too! However, not so sure that we'll be able to do the UFO sightings because there doesn't seem to be any in
OSM
yet, according to the
Taginfo site
! Thanks again for voting and here's
a link to our Developer Network
showing all the latest news on MapQuest's Open Source Project!