Performance Boosts
We recently spent some time doing a bunch of back-end cleanup by removing old code, dead code, defunct code, and what have you. In other words, critical updates that never receive any love! These updates will mostly only affect the
Open Directions Service
and
Open Elevation Service
but has led to performance increases for the said services. Also, while the previous restriction to the Open Elevation Service has not been entirely lifted, we did increase the maximum allowed distance to 250 miles (~400 kilometers). You can still make multiple calls to the service however, if you wish to request elevation for a longer route.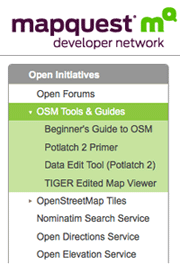 Developer Network Updates
One of the main challenges users have had with the
MapQuest Developer Network
was with navigation. You may have heard about our recent launches of
Potlatch 2
or the
TIGER Edited Map Viewer
, but have had difficulties finding it. Aside from linking it here on our
Developer Blog
, many of our products and services for our Open Initiatives especially, had remained buried several links deep. This is no longer the case. We've restructured the menu for easier, more intuitive navigation, and added direct links to some of our most popular products on the main page. There's also now a separate
OpenStreetMap Tools & Guides
section which acts as a one-stop shop for helping both beginners and advanced users with contributing and improving OSM. If you haven't already done so, be sure to check out the
Beginner's Guide to OpenStreetMap
and the
Potlatch 2 Primer
. Pass it along to your friends and get them involved (and addicted)!