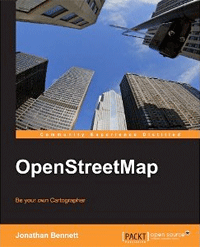 OpenStreetMap: Be your own Cartographer
by Jonathan Bennett
OpenStreetMap: Be your own Cartographer
is another must-have for any map lover, whether or not they currently have any knowledge of
OpenStreetMap
(OSM). It's well written, nicely organized, and is a great introduction (and beyond) to the entire OSM project. The book begins with a brief history of OSM, an introduction to the OSM website, links to internet resources, and everything else to help you hit the ground running. Once you're feeling comfortable enough to begin contributing and becoming a mapper, the book provides you with information on GPS surveying, data tagging, and various mapping/editing techniques. Three popular editors -- Potlatch, JOSM, Merkaartor -- are also covered in depth, helping to choose the right editor for the reader. Developers and mapping specialists will especially appreciate the latter half of the book where Bennett explores ways to publish your own customized maps using the OSM export tool,
Kosmos
, and
Osmarender
. Entire chapters are also devoted to accessing raw OSM data and its API, and manipulating OSM data with
Osmosis
to fit your needs. Overall,
OpenStreetMap: Be your own Cartographer
, is balanced in a way that isn't too dense and still covers the key highlights of OSM. It should be noted that this book reads easily and new users will benefit tremendously having just read the beginning few sections. Like
OpenStreetMap: Using and Enhancing the Free Map of the World
, this book is a valuable OSM resource and makes for an excellent gift for everyone this holiday season! MapQuest was fortunate enough to have a moment with Jonathan Bennett and have him speak with us about
OpenStreetMap: Be your own Cartographer
.
How did you first get involved with OpenStreetMap? Did you ever envision it becoming as successful as it is today? I was in a similar situation to many people who get involved in OpenStreetMap: I had a smartphone and a Bluetooth GPS receiver, and wanted to use them for navigation, particularly for off-road cycling. There was no easy, legal way of doing this, but OpenStreetMap offered a promise, even if in those early days the data wasn't there. I don't know whether I considered where OSM was going at first -- all I was concerned with was whether it would allow me to do what I wanted to do, which was countryside mapping for walking and biking. I did add other features besides the ones I was interested in, and by the time other people started mapping in the same area, it was clear we could do far more with OpenStreetMap than just roads and paths. As an early adopter of OSM, can you tell us what it was like to add and edit data back then? Was there much standardization at all? Starting with an almost blank canvas was lots of fun, and made every mapping trip easy and worthwhile. There was no aerial imagery or other data for the area I was mapping, so I did everything on foot or by bike. The most common features such as road types were already pretty standardised but there were things people just hadn't got around to mapping yet. As an example, there are lots of turning circles in the roads around where I live, but there was no existing tag for these, so I just went ahead and created one. Now there are hundreds of thousands of them in OpenStreetMap. Is your own personal experience what motivated you to write OpenStreetMap: Be your own Cartographer? I've been writing about technology for 15 years, so condensing everything I'd learned about OpenStreetMap into a book seemed an obvious move. While everyone working on OpenStreetMap's software does their best to write and maintain documentation for the bits they're responsible for, having a coherent set of documentation is a lot harder. Also, while online documentation is fine if you're just trying to get a single task done, it's easier to get an overall picture of a project like OpenStreetMap from a book that ties all the pieces together. I hope my book makes it easier both to understand OpenStreetMap as a whole, and to know how to use the data for specific purposes. What do you hope people will get out of your book? The book is aimed at people who have little or no experience of OpenStreetMap, but are interested in creating and using the data. They may just want it for personal use, like many of us, or they could be working in a company that uses proprietary geodata and is looking for a better solution, or they could be in a local government GIS department. I've tried to keep the book light and easy to read -- it's more to show you examples of the kinds of things that are possible with OpenStreetMap, rather than an exhaustive listing of every last option in every piece of software. The printed version is less than 15mm thick (that's half an inch if you're in the US), so it's the sort of book you can carry around and just dip into when you have a few spare minutes. And finally, we'd like to ask the same question we asked Frederik Ramm, Jochen Topf and Steve Chilton. Where do you think OSM will be in another 5 years when it's 2015? The great thing about OpenStreetMap is that it allows people to use the data and tools for things you'd never be able to predict, so I'm not going to try to say what people will be doing with OSM. What I think we will see is better integration between all the different parts of the project. We're already seeing the start of this, with bug trackers appearing in editors so that mappers can find, fix and close bugs in the data from a single application, and we should see other types of quality assurance tools like TagInfo being brought into editors as well. What I hope we'll get better at is making it easy for a fledgling mapping community in other countries to get going. Things like localising the tools and services, and adapting tagging conventions to each country need to be easier, so that mappers spend more time mapping, and less time fiddling with the tools.
We wanted to thank Jonathan Bennett for allowing us to interview him and talk to us about his latest book. Be sure to check it out!
A special thanks to Kumiko Yamazaki for helping write this review!