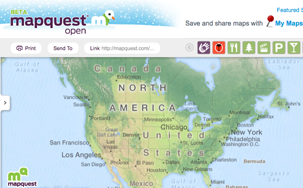 Today, the
MapQuest team launched
the much anticipated site in the Open series: good ol' US of A
open.mapquest.com
! Just like the 10 other international sites we've released since July 2010, this one is focused specifically on the United States and uses
OpenStreetMap
(OSM) data. We've included all the great tools and features that you've become used to in the other open.mapquest.* sites: - Map tiles updated every 15 minutes - Search results updated every 5 minutes - Driving directions updated daily - Draggable routes - Sharing and "send to" options - Right click anywhere on the map - Linking directly to
Potlatch 2
or
JOSM
for easy editing - Map Toolbar for easy searching - including the 'Places to Give' icon - 11 different languages to choose from: English, British English, Danish, Dutch, French, Canadian French, German, Italian, Latin American Spanish, Portuguese Spanish and Swedish
Reporting Map and Route Errors (Bugs):
With our release today we've added a new feature that empowers every user to become an OSM contributor instantly: the ability to report on any map or route errors you see. No time to sign in and edit? No worries - you can report a bug without signing in - simply select the "report an error" link and fill out the information in the bug reporting window. The data error will be captured and waiting for you or anyone else to fix using the Potlatch 2 map editing tool. The error reporting tool uses Skobbler's MapDust API to log and show errors (map or route data bugs) on the map that have been entered by people around the world.
To view data errors in your map, click on the ladybug icon in the map toolbar (hovering over the ladybug icon will show the text: 'Reported Bugs') and if there are errors close by, they will be illustrated by the red ladybug icons. Click on the icon(s) displayed on the map to activate a popup window which contains the logged data error information. Also within that popup window, are links to correct the error in Potlatch 2 or JOSM.
‪
We're showing these map and route errors to make the data even better in the U.S. and throughout the world - but we need your help with improving and fixing the underlying OSM data! If you'd like a quick read on how to choose the right editor for you or find out more about editing OpenStreetMap data, click on: http://developer.mapquest.com/web/products/open/tools.
Nominatim Update:
Potlatch 2 Updates:
We now have the latest and greatest build of the Potlatch 2 Map Editing Tool! This
latest enhancement
includes additional speed limits, new icons for roads and paths in the left pane menu along with more features added, joining of nodes onto existing ways, tagging multiple roads or POIs all at once and lots of bug fixes too. Look at the latest version
here
! We'd love
your feedback
on Potlatch 2 in general and if you're available to do detailed testing using the Flash Debug Player, more information
can be found here
to help test.
Map Style Updates:
More and more updates! Many map style updates are included in our release today: improved display of house numbers,buildings and grassy areas (such as within a zoo), labeling of one way street arrows and adding colors to foot paths and cycleways. Happy Mapping Days!