We're loading up all the gear to make our annual trip to
Austin, Texas
for
SXSW Interactive
. This year will be bigger than ever and I wanted to recap all of our plans and happenings so you can make sure you don't miss a thing. If you're busy printing out your directions and have your sights set on BBQ, this post is for you: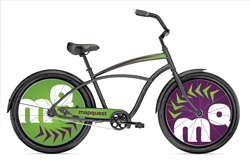 Official Mapping Sponsor of SXSW
Download SXSW's official mobile app,
SXSW GO
, to build your schedule, see a map of what's going on where, and more.
CruiserQuest
Those crazy people riding around Austin on cruiser bikes later this week - that'll be us. We're also giving a bunch of bikes away. Track down the MapQuest street team, show us your MapQuest mobile app, and you get an entry. Check out this blog post for full details:
CruiserQuest: Win a Cruiser Bike at SXSW
BBQuest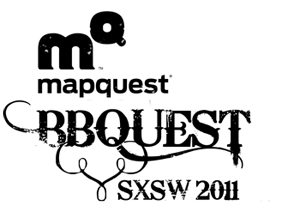 On
Sunday, March 13th
, join us on our
2nd Annual BBQuest Road Trip to the famous Salt Lick Barbecue
. Hop on a bus loaded with tech influencers, VCs, entrepreneurs, and a bartender, then go get some tasty BBQ. Finally, rock out with our friends
Shinobi Ninja
, who will be playing us off as we get you back to Austin for the evening events.
MapQuest Booth
If you thought our booth was crazy last year, wait until you see our set-up this year. I can't tell you about all the awesomeness (air hockey) we'll have there, but make sure you stop by the Trade Show from
March 14th through the 17th
. We'll be near the 4th St. entrance. In the booth, we'll be demoing our mobile applications, and showing you how you can add location data and maps to your application. So, whether you're super-coder, OpenStreetMap expert, or just need an easy-to-use tool for adding a directions link to your site, our team will be happy to chat and happy to help. Plus, we'll have happy hours in the afternoon, so we can discuss over a cold one.
Das IronGeek
On
March 15th
, MapQuest will be hosting one of the 5 challenges as part of
Das IronGeek
, an event that puts a set of 6 press and bloggers attending SXSW through a series of fun, technology related challenges, all intended to test their "geekiness."
Speaking Gigs
Also on the 15th
, yours truly will be speaking on the topic of "
Interoperable Location Data
," along with fellow panelists: Tyler Bell from
Factual
, Kate Chapman from
GeoCommons
, Adam DuVander from
ProgrammableWeb
, and Scott Raymond from
Gowalla
. Right after that, you can hustle on over to listen to Christian Dwyer, MapQuest's fearless leader talk about "
Rebranding: Tales of a New Identity
," alongside AOL's VP of Marketing: Maureen Sullivan.
See you in Texas
Hope to see you in Austin. Travel safe and have a great time!