This week is exciting, we should have several things to announce. First up, version 7 of our
JavaScript Mapping API
has been released. This release features expanded mobile support, updated map controls, better documentation and for you geonerds out there, a special treat - MapQuest now is on the Mercator projection.
Mobile Support
We support iOS and Android with version 7, and we expect this list to expand over the coming months. Additionally, we've expanded our event handling on mobile devices to enable interaction such as touchable POIs. Mobile mapping is a major focus going forward, so this is just the beginning.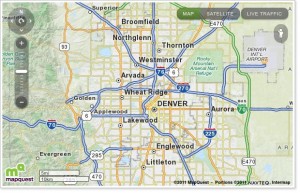 Updated Map Controls Including Geolocation
Yes, the beautiful map controls featured on MapQuest.com are now available through our API. Plus, you get

a bonus control that we have not exposed on MapQuest.com. The waving man! Click him and he automatically centers the map based on the W3C Geolocation Specification implemented in many of the latest browsers. Additionally, you can add a custom handler to perform some task after you've been geolocated: find the closest store, reverse geocode, etc.
Here's a sample using geolocation with a reverse geocode
.
Better Documentation
Is there anything more frustrating that trying to develop something with incomplete or incorrect documentation? We feel your pain. Our goal is to make working with the MapQuest Platform easy, so we've added "try it now" features to all of our docs, allowing you to edit the code in the browser and see the result. Plus, we're expanding our samples and pages, including the new
Customize the Map Interface
page for all those folks who like to put their own look on the map controls or info bubbles.
Nerd Alert
Changing our projection to Mercator might not seem like a big deal, but to those who might have struggled overlaying data, it will greatly simplify using our maps with other systems. On the API side, we're continually streamlining to simplify development. You'll notice a new map constructor object with an easy way to initialize the map based on specific points -
just pass the collection object to the constructor
. For all you version 6 users, upgrading to version 7 is as easy as changing the version string in your JS include URL! This is just the beginning...please stay tuned for further updates by following the blog or our Twitter feed (
@MapQuestTech
). Follow me at
@MapQuestRoman
. Next up...a way to code once and deploy mobile apps with stunning maps to iOS, Android and Blackberry! Impossible you say?