If you're reading this, you've likely been following our
Flash Maps API
and
Open Flash Maps API
. Well today, we're here to announce the initial beta release of our newest Flash product, the
Mobile Flash Maps API
!!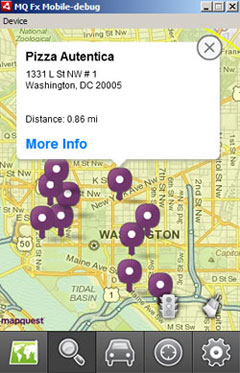 Thanks to Adobe's release of the
Flex and Flash Builder 4.5.1 SDK
, we're able to provide the same cross-platform mobile capabilities in our Mobile Flash Maps API. As a result, the API is able to support development of iOS, Android and Blackberry Tablet applications using the same code base. That's right, code once, deploy everywhere! This release of the Mobile Flash Maps API contains the vast majority of the functionality found in our Flash Maps API and has also been optimized for mobile application development. Key features are listed below.
Pinch-to-Zoom: Multi-touch gestures now supported for zooming
Larger POI Icons: Default POI icons have been increased in size to aid in touch gestures on mobile devices
Larger Close Buttons: InfoWindow close buttons have also been enlarged to allow for easier touching
Mapping: Use a drag and drop Tilemap Component for the Flash Builder IDE, or a pure ActionScript TileMap object
Geocoding: Basic geocoding, batch geocoding and reverse geocoding
Routing: Textual driving directions, route ribbons for map display, and route shapes for drawing your own route ribbons
Searching: Radius, polygon, rectangle searching, etc
Traffic: View current traffic conditions, including traffic incidents and ongoing construction
To start developing your own mobile application using the Mobile Flash Maps API, please visit
MapQuest Beta APIs and SDKs
where you can
download the API
and the
source code
to a sample application. And remember, this is still beta and we'd love it if you can provide some feedback at
flashapibeta@mapquest.com
, on the Mobile Flash Maps API Beta Forums or
@MapQuestTech
if you can squeeze it within 140 characters!