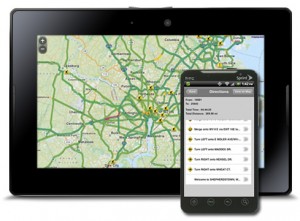 MapQuest is at
Adobe MAX
in sunny Los Angeles and we are thrilled to announce the official release of our
Mobile Flash Maps API on both licensed data
and
open data
. I've been involved with many a mobile project over the years, and, frankly, they are a huge pain. To build an app available to most users means building the same code several times over, once for each major platform. Today, we're excited to announce a new API combined with an Adobe technology that should alleviate that pain. For those who have been following Adobe lately, you've seen some very exciting developments within their Flash Builder (Flex SDK) development tools. With the release of
Flash Builder 4.5
, you can deploy native mobile applications to Apple iOS, Google Android and Blackberry Tablet from a single code base. Yes, code
ONE
time and deploy native applications everywhere. For those used to Adobe Flex, Flash Builder is the new name of the development tool to deploy applications using Adobe Flex SDK or ActionScript. Our
Mobile Flash Maps API
provides interactive mapping features to use within Flash Builder 4.5 native mobile applications. This includes support for touch gestures, as well as making our controls and POIs mobile friendly. So now you can easily combine the great features of our web services, such as
searching for traffic
or
optimizing your route
, with an easy way to deploy to a mobile device. Check out the video below to see just a small sample of what you can do. To me, there's nothing better than finding the perfect piece of sample code when I'm looking to develop an application. The mobile application featured in that video is available to jumpstart your next mobile project. If you're on an Android device, you can run this app directly on your phone by
checking out the MapQuest Mobile Flash Maps API Showcase in the Android Market
. You can also
download the source code for our mobile mapping app here
. We couldn't squeeze all the features of our web services in a single app - here are some other features you might be interested in.
Along with those features, you have your choice of using either our licensed data (what we use on MapQuest.com) or our open data (such as OpenStreetMap). While the Mobile Flash Maps API is different from our web/desktop Flash Maps API, you'll still find many of
the samples we provide on our desktop/web API
will be useful to see the possibilities of what can be built. Here is a
full list of differences between the mobile and web/desktop versions of our Flash Maps API
. This is just the beginning - we're excited to meet Flash Builder and Flex developers here at Adobe MAX and hear what features they're looking for from us going forward. We have an Unconference discussion at 10 am on Wednesday if you would like to see the Mobile Flash Maps API in action. If you're not at the show, head over to our
Flash Maps API Forums
at let us know what you think. We already have some additional improvements on the way. Catch up with us at MAX (@MapQuestRoman)!