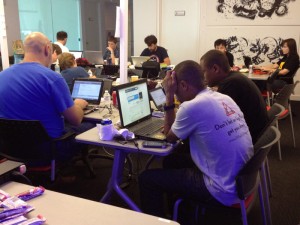 This past Friday, I attended an
AT&T Mobile App Hackathon
and had the pleasure of speaking about the MapQuest APIs in front of some of southern Florida's top developers, entrepreneurs and other technology enthusiasts. They were a friendly, fantastic group who spent the evening (and well past midnight) forming into teams, collecting their thoughts, and devising a plan for the all-day hackathon event the following day. As with many applications built today, geolocation plays a large role in creating context and relevance, and is considered an expected feature among top apps. With the hack's geolocation theme, teams spent all day Saturday coding and designing with this in mind. The unanimous winner,
Volvo Ocean Race - Ultimate Fan
, was a beautiful, well polished app with MapQuest APIs and geolocation built in to engage race fans around the world during the nine-month competition.
Volvo Ocean Race - Ultimate Fan App
Developed using HTML5 by David Ponevac and Marek Drugac, the app allows fans to submit questions to their favorite teams (e.g. "Can you shoot a video of what it's like having to cook breakfast while on board?"), view geotagged photos taken by other fans, check the distance of the closest yacht as they approach shore, and more.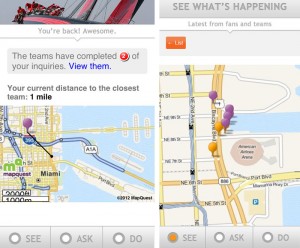 David and Marek were able to utilize the
MapQuest Open JavaScript API
to geolocate the user, display their location and plot geotagged photos of the race onto an interactive map - all of which were completed in the last hour of the hackathon.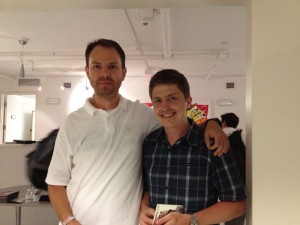 When asked if they were nervous about implementing MapQuest in such a short time, Marek Drugac replied, "No. The documentation is written quite well, so we did not worry at all." They also mentioned the benefits of MapQuest's terms over other geolocation APIs, which you can read more about in the
Terms Overview
. "With Google we actually hit the point where they want to charge us. We'd love to pay but the service is not generating enough cash to cover such expense. So we are looking for something that can take us a bit further without spending too much money," added Marek. And for those waiting for the Volvo Ocean Race - Ultimate Fan app, David and Marek are currently working with Volvo to make slight modifications before releasing the app hopefully before the end of this year's race.
Mobile App Hackathon Recap
As this was my first hackathon, I was pleased to see how successful the event was and how genuinely curious developers were to see what MapQuest had to offer. The
Static Map Service
proved to be popular as mobile developers wanted a lightweight option for simply displaying a map on their device. And, if you missed it, MapQuest also has a native
Apple iOS API
and
Android API
, as well as mobile support using the
JavaScript
and
Flash APIs
. Thanks again to AT&T for hosting the event and the NON-STOP FOOD! Can't wait for our next hack!