[caption id="attachment_2081" align="alignright" width="320"]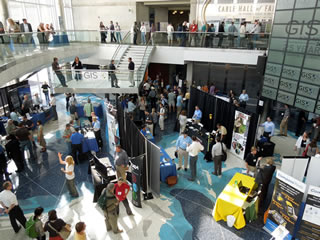 The exhibit floor at the GIS in the Rockies conference. Photo courtesy of Annette Ginocchetti.[/caption] Last week I had the pleasure of speaking about the
MapQuest Directions API
as a part of the Emerging Technologies track at the
GIS in the Rockies
conference. The conference, which was held at
The Cable Center
here in Denver, Colorado, is a large regional conference that focuses on many topics relevant to geospatial technologies, including geospatial web development, analysis, surveying, photogrammetry, and remote sensing. My session,
An in-depth look at the MapQuest Directions API
, touched upon many of the features included in the Directions API that go beyond simple point-to-point routes and driving directions, such as: •
Multipoint routing
•
Optimized routing
•
Route control points
•
Route matrix
•
Corridor searching
(with the MapQuest Search API) We took a look at sample code, requests, responses, and talked about how to get started, since all of this great functionality is available to both
Community Edition
and
Enterprise Edition
developers today (yes, today!). The conference was well done and certainly did not disappoint; in fact, it was inspiring to see the work being done by others in the industry and many of the sessions were informative and fun. I'm already looking forward to next year's conference. Only 360 more days to go! If you need help with getting started or have questions about the Directions API, feel free to check out the
forums
on the
Developer Network
or tweet
@MapQuestTech
!