We've been working on a number of infrastructure upgrades over the past few months and recently released one of the most visible updates: the new
MapQuest Developer Network
! The new Developer Network -- along with a quite a few other important upgrades -- sets the foundation for a much-improved developer experience that will be rolled out in phases throughout the rest of the year.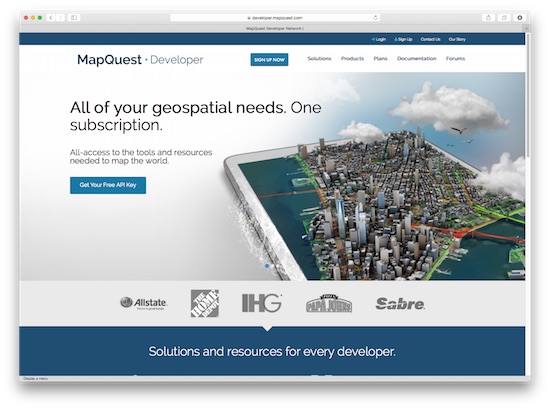 First, the information architecture of the site has been changed and additional content has been added. We want to ensure that our documentation is easy to find so that it is easy to get started while keeping the number of clicks to a minimum. Our documentation is available
via the Documentation link
on the homepage. Second, we more prominently highlight the
types of solutions
in which our APIs and SDKs are commonly integrated. We like to think of our APIs and SDKs as building blocks -- or better yet, a toolbox -- since the APIs and SDKs can be mixed and matched to create truly custom, full-fledged applications. The best features of each API and SDK
are detailed in the Products section
of the site. Third,
we've launched our Plans page
, which offers the ability for Developers, Startups, and Small Businesses to sign up for a monthly paid subscription that goes beyond the 15,000 transactions/month offered in our Free plan. The paid subscription plans offer access to all APIs and SDKs included in our geospatial toolbox without the need to contact an Account Manager during business hours. The Plans page is available 24 hours/day, 7 days/week, and it is easy to sign up and get started. There are a number of items on the Developer Network roadmap that will be introduced later this year, such as:
standardized API Web Service documentation, using a common format that makes it even easier to form API requests and understand API responses
additional demos that showcase our APIs and SDKs working together to create a full-scale solution, complete with downloadable code
enhanced Developer's Guides for our Map SDKs with re-worked 'try-it-now' samples
additional Plans that include access to new APIs, SDKs, and other services provided by MapQuest
Stay tuned for additional information about new products, upcoming Developer Network enhancements, as well as other improvements to the overall MapQuest developer experience. As always, feel free to drop us an
email
or tweet us
@MapQuestTech
if you have questions.