We have a lot of exciting things going on here at MapQuest. Our new mobile map SDK will allow you to deliver a fully native mapping experience across all platforms and the ability to control the look of your maps along with vector-based traffic. In addition, we're modernizing across the board with an updated map stack and the sunsetting of some of our older products including Flash, JavaScript, and Leaflet V1. Read on to learn more.
Mobile Map SDK
We're excited to announce the launch of our mobile map SDK, allowing you to deliver a fully native mapping experience across all platforms. Regardless of the screen, your customers will have a consistent and familiar experience with you and your brand. Our new native mobile maps are available in two styles including satellite style with road overlays and our newly redesigned MapQuest style. The satellite style with road overlay maps combine satellite imagery, road networks and cities. These beautiful, fully rotatable and zoomable maps will help you create top-notch interactions with your customers. Whether your map is used to find the closest store or if your delivery teams leverage maps to pinpoint their next stop, you can guarantee intuitive interaction with a modern look.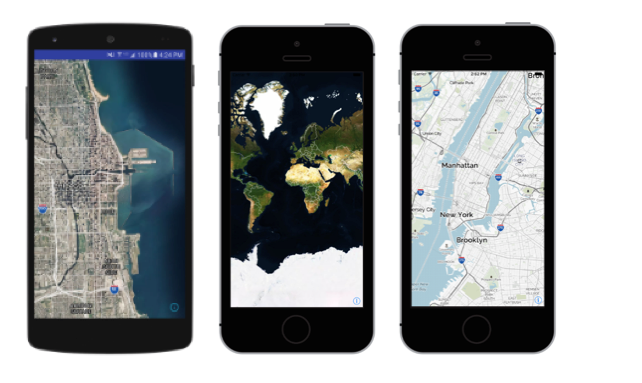 Vector-Based Traffic
Control the look of your maps with our vector-based traffic. Want to match the color of traffic with your brand? Go ahead! You can customize the format of the traffic line and the colors to your heart's desire. Your mobile user will benefit from faster load times and a clearer picture with our new vector-based traffic within our mobile maps SDK.
Mapping and vector based traffic is just the beginning of our redesigned mobile SDKs. We're continuously adding to include the various services we offer today — asset tracking, search, directions, geofencing, and more.
Updated Map Stack
In July 2016, we'll be transitioning all of our existing maps to our new, modern map style. Our newly styled maps are bound to improve the overall experience and interactions your users have with the maps on your site or within your app. This will not require any action from our customers, rather everything will be updated seamlessly.
Sunsetting of Flash and JavaScript
Thanks to these and other features we've added to our SDKs, we've enhanced our overall strength and capabilities. Today, the performance, consistency and capabilities of our Leaflet Plugins has progressed, making them an increasingly better alternative to our legacy Flash and JavaScript mapping SDKs. As a result, we're beginning the deprecation of these services. Below are the retirement dates for these mapping SDKs:
Flash Maps SDK (Licensed, Open, Mobile): 6/6/2017

JavaScript Maps API (Licensed & Open): 6/5/2018

Leaflet 1.1, 1.2, 1.3: 6/6/2017

iOS and Android mobile SDKs v1: 9/6/2016
On these dates, the SDK and API will be turned off and we encourage Developers using these existing applications to migrate to our new Android SDK, iOS SDK or V2 of our Leaflet Plugins as soon as possible.
Developers looking to migrate to our Leaflet Plugins should reference this
migration guide
on our Developer Network with step by step recommendations. And check
these helpful demos
on our Leaflet Plugins. Additionally, our professional services team is here to help make this transition as easy as possible for you and your team. Reach out to us at
sales@mapquest.com
for additional assistance.