Recently, Dronesmith Technologies participated in an IoT-focused Mobile App Hackathon in New York City. More than 200 developers organized into 36 teams to build Internet of Things prototypes featuring hardware and software services provided by the event sponsors, including MapQuest.
Our team at Dronesmith developed a concept of an IoT-enabled drone that is able to fly along a pre-planned route while detecting cell tower signal strengths through onboard sensors. This innovative capability provides cell network companies opportunities to monitor their networks and identify potential weak spots in their overall network coverage.
With just a small fleet of drones, powered by APIs such as MapQuest's Directions API and the Dronesmith API, companies are able to increase operational efficiencies, exponentially improve product offerings and grow brand reputation.
Watch a video of the drone in action below: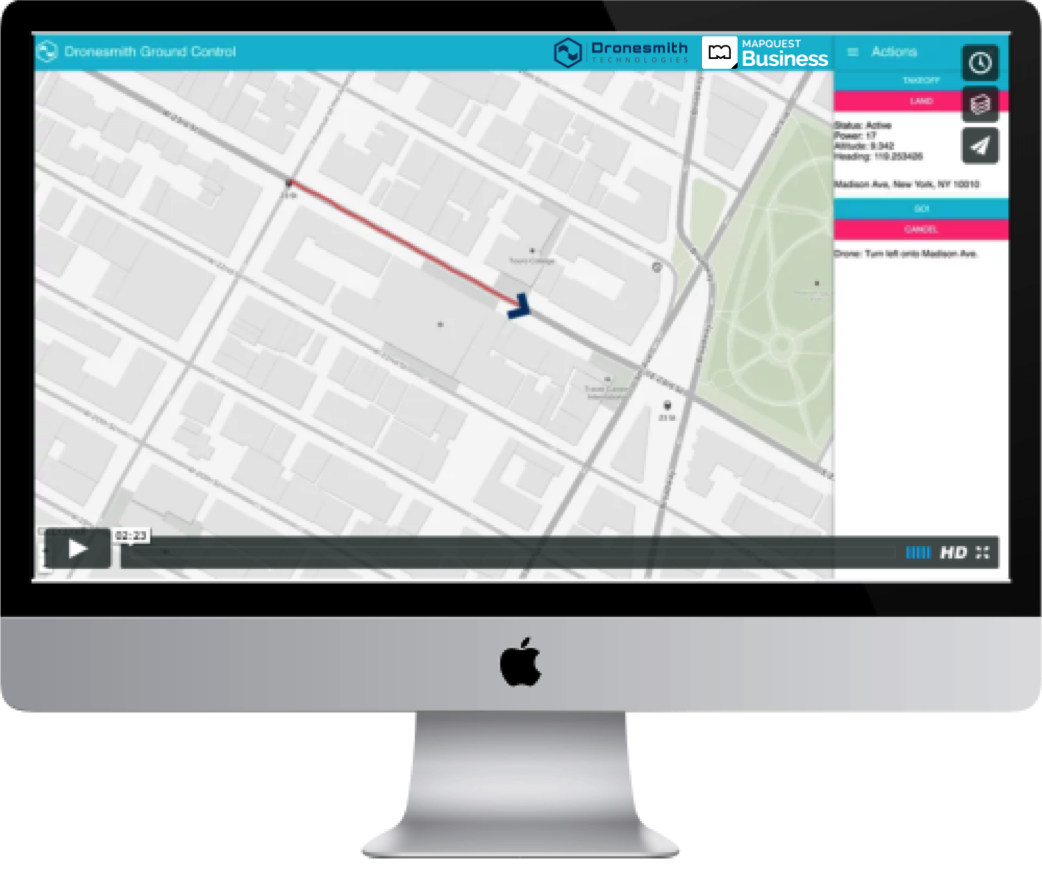 To build out the solution, Dronesmith broke the development of the IoT-enabled drone down into a set of smaller, more digestible functions and features with the ability to:
Determine and enter a pre-planned route
See the drone moving on a map
Base routing off of existing roadways
Easily avoid large obstacles (i.e. buildings or bridges)
This is where MapQuest's developer-friendly APIs and well-articulated documentation proved to be the perfect solution. Enter MapQuest's Directions API and Leaflet Plugins!
Using the Directions API, we are able to enter customized, pre-planned routes for the drones to follow in order to get them from point a to b. We also input boundaries for our drone to avoid, such as large buildings and bridges.
Using MapQuest Leaflet Plugins, specifically the OpenStreetMap tiles, we could then visualize a route for our drone to fly along. With this plugin, we easily displayed a beautiful map with the option of using a basic map, satellite and/or hybrid.
The Dronesmith API handled all the remote command and control functions of the drone. In this scenario, we used a virtual drone built into our API to simulate actual drones flying over New York City. We also integrated the Twilio API, which created the ability to direct and control the drone via SMS text messaging, as well as the AirMap API, which allowed us to avoid protected airspace and have an awareness of other UAVs in the area. Scriptr, a JavaScript IoT development platform, allowed us to connect all of the features and functionality mentioned above into one cohesive solution in under eight hours.
Our IoT-enabled drone prototype provides a starting point for those looking to develop a remote command and control system for drones using our RESTful APIs. While our application is targeted toward the telecommunications industry, the onboard sensors are interchangeable. IoT-enabled drones could be used in other applications, such as detecting noise or air pollution.
Developers can easily integrate all their geospatial needs through MapQuest APIs. Not to mention, MapQuest's documentation makes their APIs easy to set up and use. Being able to simply call "MQ.route" and get results without a huge fuss pulls the app together quickly and painlessly, a necessity for creating a project on the fly at a hackathon.
Have a vision? Access our complete code via Github and request a free Dronesmith API key to start building out your own solutions. Also, be sure to check out MapQuest's Directions API. Sign up for a free API key to help with all your geospatial needs, including directions, mapping, geocoding, traffic and more.
We'd love to hear about your solutions. Comment below or visit us at dronesmith.io.
Guest author Westin Conahan is the Director of Product at Dronesmith Technologies, where he focuses on developing user-friendly platforms for developers to quickly build solution-specific software applications.