Hot off the press! We have the latest and great version of our Mobile Map SDKs for both Android and iOS. Android Map SDK version 1.3.20 and iOS Map version 3.4.1-1.0 are now available for download on our Android documentation page and iOS documentation page.
Both Android and iOS SDKs include a new map style — night mode. Night modes is less distracting and easier on the eyes, helping to promote safe driving. Our mobile map styles are customizable, allowing your map to automatically convert to night mode based on rules such as the hour of the day or display night mode at all times.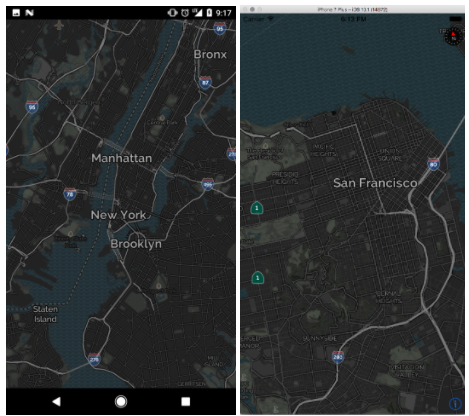 Additionally, version 1.3.10 of the Android Map SDK includes a new class — the MapquestAccountManager class. This minor update is strictly for account authentication purposes.
Our teams were also working hard on behind-the-scene updates. The newest versions includes the latest open source code releases and fixes to issues reported for memory and display issues.
As a reminder, on June 6, 2017, our Flash Map SDK will no longer be available and you will receive an error when trying to access it. We encourage our Flash Map SDK users to transition to the latest version of our Mobile Map SDKs or Leaflet v2.2. Those looking to migrate to our Leaflet Plugins, please reference this migration guide on our Developer Network and these helpful demos on our Leaflet Plugins to transition to our latest version, 2.2.
Need additional support with the migration such as professional service support? Please feel free to contact us at support@mapquest.com.